Product description
FK 5 HFL - Single and double laminar sealing rings
for the sealing of axial compensators in exhaust pipes of internal combustion engines, manifold sheet metal pipe connections, exhaust gas recirculation systems and turbochargers
"FK5-HFL" application single and double laminar sealing rings
Single and double wound laminar sealing rings with the identification "FK5-HFL" are made from high-temperature chrome-nickel steels and are designed for the sealing for axial and radial compensators at exhaust pipes of internal combustion engines, exhaust gas recirculation systems, exhaust valves, turbochargers, mobile and stationary power units.
Especially for applications that deal with high operating temperatures and high axial and radial movements due to thermal expansions.
Ring materials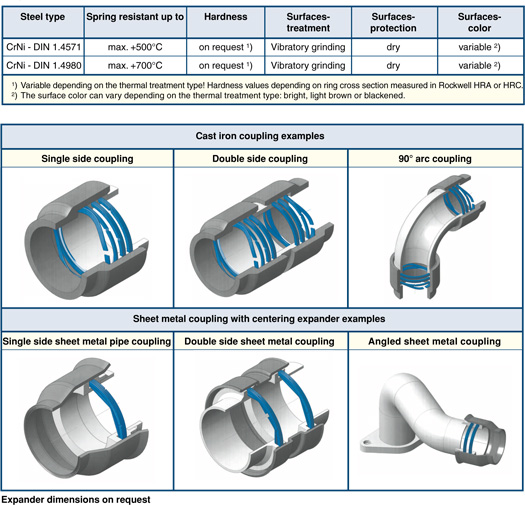 Installation information:
Click here.
Order information:
The ring diameter information must match the housing or bore diameter dimensions "D1″ for all inquiries and/or orders. The rings can be ordered individually or in sets.
Run and installation tests::
Run and installation tests under operating conditions must be performed in each case before standard production of our laminar rings can begin to determine whether the desired sealing effects can be achieved.
FK2 - Laminar piston rings
| | |
| --- | --- |
| FK2 | |
FK 3 - Single laminar sealing rings
| | | |
| --- | --- | --- |
| FK 3 AS | | |
| FK3 ASK | | |
| FK3 IS | | |
| FK3 ISK | | |
FK 4 - Laminar piston rings
| | |
| --- | --- |
| FK 4 | |
FK5 - Single and double laminar sealing rings
FK6 - Double laminar sealing rings
| | | |
| --- | --- | --- |
| FK6 ASD | | |
| FK6 ASKD | | |
| FK6 ISD | | |
| FK6 ISKD | | |
FK7 - Single laminar retaining rings
FK7 - Double laminar retaining rings
FK8 - Plastic laminar ring carrier seals
| | | |
| --- | --- | --- |
| FK8 | | |