Product description
FK 8 - Plastic laminar ring carrier seals
as seals and spacers for grease lubricated roller bearings
Application "FK8″ plastic laminar ring carrier seals
Outside clamping plastic ring carrier seals made from Polyamide 6 (PA6), also available with mineral fibre fortification, are used to seal roller bearings against grease leakage or dirt and splash water ingress in vehicle axles as well as rollers and wheels for all equipment types, engines in transport technology, motion sequences in construction equipment and agriculture machines.
Ring carrier seals in accordance with design 01 and 02 have spring-loaded, flexible sealing lips. This has advantages if splash water can frequently be expected in the sealing area.
Plastic ring carrier seals are also suitable as a protection seal in front of radial shaft seal arrangements.
Ring materials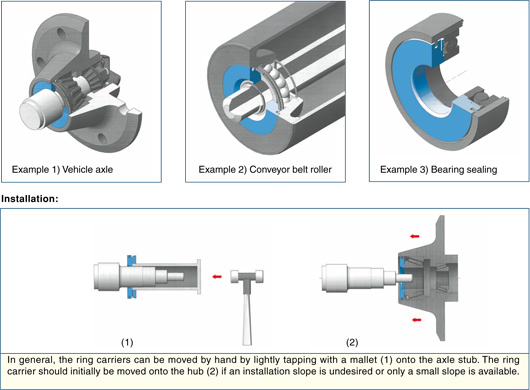 Run and installation tests::
Run and installation tests under operating conditions must be performed in each case before standard production of our laminar rings can begin to determine whether the desired sealing effects can be achieved..
FK2 - Laminar piston rings
| | |
| --- | --- |
| FK2 | |
FK 3 - Single laminar sealing rings
| | | |
| --- | --- | --- |
| FK 3 AS | | |
| FK3 ASK | | |
| FK3 IS | | |
| FK3 ISK | | |
FK 4 - Laminar piston rings
| | |
| --- | --- |
| FK 4 | |
FK5 - Single and double laminar sealing rings
FK6 - Double laminar sealing rings
| | | |
| --- | --- | --- |
| FK6 ASD | | |
| FK6 ASKD | | |
| FK6 ISD | | |
| FK6 ISKD | | |
FK7 - Single laminar retaining rings
FK7 - Double laminar retaining rings
FK8 - Plastic laminar ring carrier seals
| | | |
| --- | --- | --- |
| FK8 | | |